Building social media strategies in 2019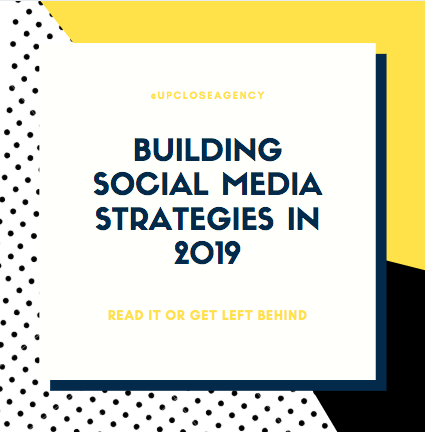 Build it and they will come
According to The Manifest's survey of social media marketers, two of the biggest social media challenges businesses faced included missing a formal strategy (24%), followed by tracking results (17%).
Most businesses and brands, as well as influencers, start social media marketing, in order to promote their products and services, including increasing their brand awareness. But most of them overlook the strategy, or even a clear plan for their social marketing game.
In this article, we'll show you how you can build your own social media strategy, that fits your needs.
1. Set Energizing Goals.
Goals come in all shapes and sizes, so let's set some ground rules on good social goals.
What defines a good social media marketing goal?
Goals should be SMART.

Goals should be audience-centered.

They should be tied to organizational impact. A good goal is an outcome, not an activity. (i.e., What does the business need to happen in the next year?)

Goals should start big, then break down into KPIs. To keep on track, you should establish goals that are big but achievable. Then break them down into monthly and quarterly key performance indicators (KPIs). We recommend identifying two types of goals in your planning:

Primary goals that describe your top priority outcome.

Secondary goals that describe your objectives for each channel.
Your primary goal is going to answer, "If we only hit this one goal this year, we'll know we're successful."

2. Identify Target Audiences.
Do you have a defined target audience associated with your goals?
Having clarity on your most valuable and important customer types precedes this step. For the purpose of social media strategy planning, there are three main audience groups we care about reaching:
a. Your most valuable customers.
Focus on your MVP (Most Valuable Personas) for your primary goal. Building a better relationship with this audience—and attracting more like them—will drive the greatest return from your social media investment.
b. Your aspirational audience.
This segment represents the audience you want to grow into next. This group might be important for business growth in the next 5 years. They might not be an immediate priority, but they should be identified and understood.
c. Your influencer audience.
The segment who can lift up your brand and reach your customers. Who influences your customer? Defining this group can be key to unlocking earned media and traffic.
Next, dig into the details of your customer persona. Once you've confirmed your target audiences (congrats on being decisive!), the next step is to describe them at a deeper level. The better you know your audience, the more effective your content strategy will be in engaging them.
All of your juicy content ideas will come from the answers to these questions, so it's important to get authentic, qualitative feedback—ideally from your customers themselves. For additional reading, our friends at Optimist provide more questions to consider when building out a buyer persona.
3. Establish a Channel Strategy.
Selecting the right platforms is key to a focused social media program.
Here's a checklist to use, when it comes to this:
A. Identify primary channels for organic content and paid campaigns.
B. Secondary channels for future growth and opportunities.
C. Channel-specific features to enhance performance and engagement.
D. A clear plan to grow your presence and audience on each channel.
Also, ask yourself and key members of your organization:

Are our primary channels vital to hitting our primary goals?

How will we grow on these channels—what tactics will we try?

Which channels should we keep on our radar to grow into next?

Which features will we employ on those channels?

Are our growth goals clear and reasonable?
4. Design Your Content Strategy.
An effective social media content strategy organizes your content into topics, pillars, or themes that resonate with your audience. This social media framework could be used as a blueprint for organizing campaigns or your entire evergreen content strategy. Using this model, all content marketing is guided by an overarching idea or purpose, and broken down into similar topics.

5. Amplify Your Content Distribution.
What will you do to amplify the distribution of your content?
It's time to put an end to the "just boost it for $5 and see what happens" strategy. 2019 is the year to take paid amplification seriously.
Make sure to use paid social media to amplify reach to your most relevant audiences. Set a minimum monthly budget for paid social media. Have tools in place for proper conversion and visitor tracking.
Follow these steps, instead of just wasting money on unplanned 'promotions'.

6. Plan Your Execution.
With a solid foundation in place, it's time to evaluate your people, process, and publishing plan.
Start hiring people for relevant positions, if you can afford it. Have daily, weekly, monthly, and annual goals in place, and make sure to follow up with them, to ensure the growth.
Your execution planning should answer – are the right people in the right seats? Are they focused on the right tasks? And how will we improve the plan as we go?
By following these steps, you can make sure that your social media game is on point, and will work towards your business goals.